THE HOUSE WITH PRINCIPLES.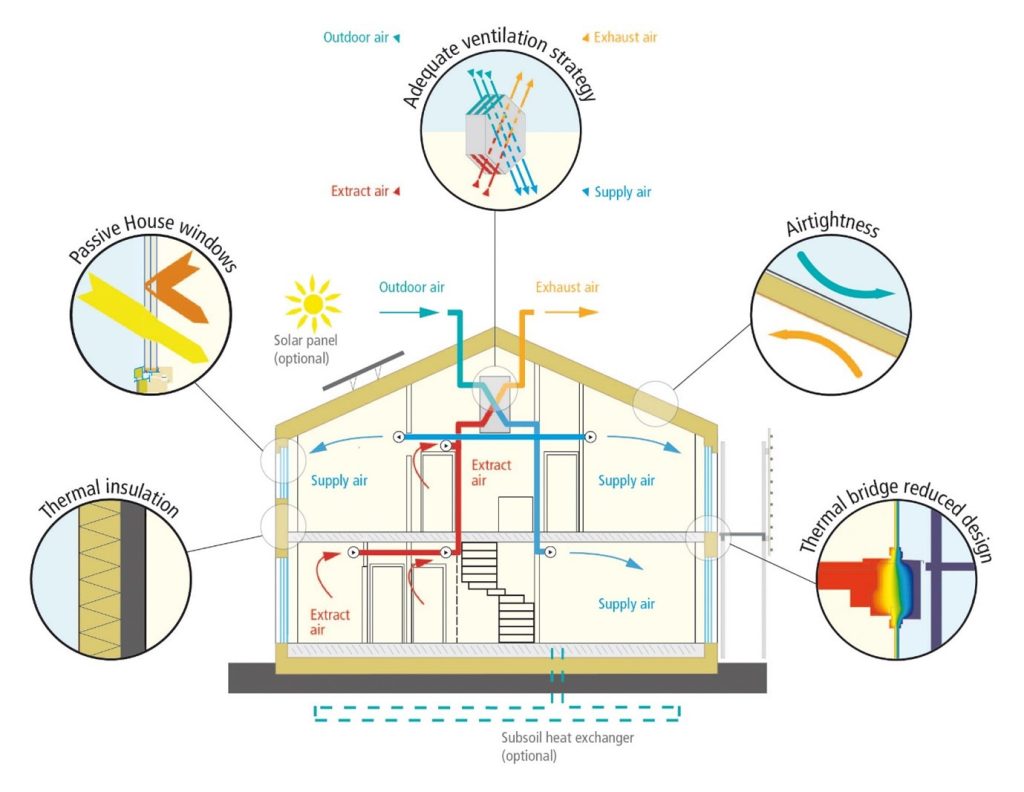 A Passive House is characterised by five principles which can be summarised in the following:
1.     Thermal insulation
2.     Minimalising thermal bridges. 
3.     Triple-paned glazing
4.     An airtight building envelope.
5.     A mechanical ventilation system with heat recovery.
These principles can be applied through various strategies. Thermal insulation requirements can be reached by using appropriate insulation materials to attain high value heating and cooling protection all around the building. The insulation and windows would be installed without thermal bridges. For Passive House requirements, window specifications need to have insulated frames and triple glazing.
The thermal envelope which encloses all the building's conditioned spaces is required to be one airtight envelope. For PHPP calculations this includes external dimensions meaning from the bottom of the insulation below the concrete slab to the top of the insulation in the ceiling and everything in between. A pressurisation test must be employed to effectively test the airtightness of this envelope.
In a Passive House, all rooms enclosed by the thermal envelope are ventilated by a ventilation system with heat recovery capacity while also ensuring healthy air circulation. The energy used by this type of ventilation system is minimal in comparison to conventional climate control systems. While on the subject of power usage, the emphasis on utilising renewable energy sources within the Passive House concept implies the specification of energy efficient electrical appliances.
Finally, from the southern hemisphere point of view, Passive Houses favour positioning large, glazed areas on the North side of the building, and glazed areas on the West and East sides of buildings fitted with appropriate sun protection to control solar load in warmer months. This is of course, a very simplified explanation of the components used by the PHPP tool to calculate and optimise energy efficiency standards integral to the Passive House concept. But the detail and accuracy with which these simple principles can be employed to enhance both the high levels of sustainability and living environment in building standards is impressive.
Want to be impressed more by the Passive House story? Come back next week to find out more about your household energy consumption and the important role of reducing thermal bridges to save on your energy bills.